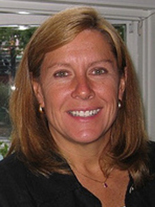 In 1988, Barbara Blaine founded the Survivors Network of those Abused by Priests, the nation's oldest and largest self-help organization for victims of clergy sexual abuse. Barbara and SNAP were a major part in speaking out against the clergy abuse that was happening during the 2002-03 Spotlight team's investigation of the archdiocese of Boston. 
She created SNAP to help empower survivors to tell their stories publicly. Blaine has been a catalyst in lifting the climate of secrecy that enables clergy predators to thrive. 
"Tragically, the sexual violence continues, even now, in 2015. The highest-ranking church officials -- at the diocesan, national and Vatican levels -- have known about and covered up many crimes. We must remain skeptical that the recent Vatican actions are more than public relations campaigns."
As the fight against sexual abuse continues Barbara is asking all clergy to see the movie. SNAP released a statement emphasizing the importance of church leaders seeing the film saying, "Instead of promoting vigilance, which protects kids, you and your brother bishops keep promoting complacency, which endangers kids. It's time to stop pretending your weak, vague and unenforceable internal church abuse policies, protocols and procedures make any real difference and using them to mollify your flock and staff. It's time to start using opportunities like this film to help make sure that cover-ups and clergy sex crimes stop." 
"The sexual abuse of children by clergy, and the seemingly never-ending cover-ups of these horrific acts, is like an infection. It can't be partially cleaned out. It must be fully removed and thoroughly cleaned before healing can begin."
Barbara has made many statements about the sexual abuse scandal in Boston as seen in this SNAP Spotlight Time Capsule, but she has been speaking out against abuse in the church long before that. Here Barbara is seen on the Donahue show in March of 1993 speaking out against Catholic sexual abuse. Barbara is joined by Jason Berry in this interview who had just published his groundbreaking investigative report on early abuse cases then surfacing around the country, including the story of Louisiana priest Gilbert Gauthe. Fr. Andrew Greeley. 
---