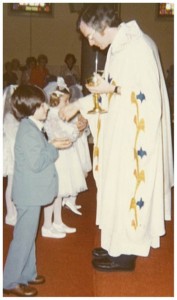 First and foremost, Michael R. Unglo was a great man: a loving son, brother, uncle and friend; an accomplished student growing up throughout high school and college; an accomplished professional in creative advertising; and activist for all that is true, honorable and just. At the same time, though, throughout much of his life, he suffered from the scars of childhood sex abuse rendered upon him by a priest and from the ongoing pain and torment triggered by the inadequate response of the Roman Catholic Church and the Diocese of Pittsburgh. They failed to protect and help him when he was a child, and continued to fail him as an adult working to overcome the scars of abuse.
Imagine a 9-year-old being forced to perform a variety of graphic and explicit sexual acts with a 40-something year-old man—and being told by that man that your deceased father would have wanted to have such a 'special relationship' with him. Then imagine that same child being told that God wants the special relationship too. Envision suffering those wrongs for four years, as a child, in confessionals, sacristies and nearby parks, and being told that you should be silent forever—or else. Then imagine finally having the courage to come forward some 23 years after the last incident of abuse, and telling the institution that still supports that man what happened—only to have that institution promise to make things right. Then in an effort to limit their financial exposure, they tell you they can't and won't help anymore. And lastly, while trying to complete your comeback and overcome complex post-traumatic stress disorder and violent flashbacks of the abuse, imagine that the Roman Catholic Church and the Diocese of Pittsburgh cut off funding for the very care they were providing for you, the care that you needed to stay on course. Imagine the abuse of office, and imagine the wrath of God at such abuse. "But whoso shall offend one of these little ones which believe in me, it were better for him that a millstone were hanged about his neck, and that he were drowned in the depth of the sea." Matthew 18:6.
These are the circumstances that Michael faced, yet he still was able to accomplish so much in his life, including the following:
B.A. cum laude from the University of Pennsylvania
Vice President of Creative Copywriting for a New York medical advertising firm
President and Founder of Alpha Phi Delta fraternity at the University of Pennsylvania
Loving son, brother, uncle and friend to so many, an inspiration to those around him to achieve success they never thought possible before knowing Michael and his enlightening enthusiasm
Activist for truth, honor, justice and respect; and fundraiser for various nonprofit organizations
Sadly, while Michael was achieving so much in his life, he suffered far too long in silence with a burden that he started to bear at too young an age – a burden that no one should have to bear at any age. At the time when his family trusted someone the most, that very person violated them the most. Michael's dad died in 1981. We now know that Michael went through four years torture being abused and tormented by a Roman Catholic priest who would finally be convicted years later for his crimes against children. Michael's torture came on the heels of losing his father.
What you have come to read about regarding the Roman Catholic Church and priests abusing children is far too common and true. The leaders of that Church must change – plain and simple. In his hour of need, the Roman Catholic Church failed Michael – and his family – yet again.
Many of you have probably seen the movie, The Blind Side, which came out late in 2009. In that movie, an essay is written. One of the quotes from the essay is, "And maybe even pray that the people telling you what to do have some [honor], too." Far too many people abuse the power of their positions. Honor is about never losing sight of truth and beauty and protecting those precious gifts when we are entrusted with doing so. Michael did exactly that throughout his life. Michael was a victim of an extremely dishonorable man, and also victim to men in an institution who work to hide such perpetrators. In so doing, they become perpetrators themselves, and no less guilty; and their actions are lamented.
Michael always embraced life with passion and conviction. There is a famous inscribed archway at the University of Pennsylvania, which translated into English reads, "We will find a way, or we will make one." Additionally, the official motto of the University of Pennsylvania is, "Laws without morals are in vain." These two phrases are very appropriate to remember, as Michael was promised during his eulogy that all would be done to hold the people who harmed him accountable for what he had to suffer. Laws and statutes of limitations have been set up to protect the guilty, but a way will be found or made to hold them accountable. Michael's life will be honored, and his suffering remembered.
****
Please check out this great partner organization in this fight against clergy abuse - The Michael R. Unglo Just Be Foundation, Inc.